Get Your Energy Back with Light Therapy
As the seasons change, your mood can change too. Feeling tired, irritable, and unmotivated when the weather shifts and the days get shorter is not unusual. This could be a temporary case of "winter blues" – something that will pass over time. For some people, however, it may signify something more serious, like seasonal affective disorder (SAD).
Seasonal affective disorder is a type of depression that commonly strikes during the fall and winter months. It is believed that SAD is a subtype of seasonal variation of major depressive illness or bipolar disorder.
People with SAD may experience one or more of the following symptoms:
Drowsiness or excessive sleep
Lack of vigor
Mood swings
Insomnia
Loneliness and depression
Negative thoughts
Overeating
If you have encountered any of these issues, or if you are worried about SAD and are searching for effective treatment, we may be able to help. There are many different methods that medical professionals use to combat SAD. These include psychotherapy and courses of medication, but light therapy is still one of the most popular forms of treatment. Read on to discover more about light therapy and products you can use to maintain your health through the winter months.
To learn more about how to heal SAD, check out our post How to Heal Seasonal Affective Disorder Naturally
Light Therapy for Seasonal Affective Disorder
Light boxes provide a therapeutic dose of bright light to the patient. Essentially, this light is intended to provide the benefits that sunlight would offer during the summer months, alleviating the symptoms of SAD. These boxes come in various shapes, sizes, and styles to cater to different preferences during seasonal affective disorder therapy. Let's take a closer look into how these light therapy lamps work to help with SAD.
How Does Light Therapy Work?
The light box emits intense artificial light to mimic the sun. The light intensity is generally around 10,000 lux in strength. The patient will spend around 30 minutes a day close to this light source, as the light box mimics natural summer sunlight.
Benefits of Light Therapy for Treating SAD
We've looked at how light light therapy benefits individuals with SAD, but why is this exactly? Let's take a closer look at how light therapy can help to treat the disorder.
Correcting the Circadian Rhythm
During the winter months, when days become shorter and darker, our minds can quickly become out of sync with our environment. This is because we are used to a set pattern of daylight hours, and disruption to this pattern can contribute significantly to the symptoms of SAD.
Bright light therapy can effectively override how you perceive these seasonal changes, artificially 'correcting' the daily cycle of light and dark. This is one of the theoretical mechanisms that researchers believe makes light therapy so effective.
Boosting Serotonin Availability
Another possible medical benefit of light therapy is in increasing the availability of serotonin. Serotonin is a chemical that enables the communication between nerve cells, stabilizing mood and emotion.
Some researchers believe that SAD sufferers may experience greater binding of serotonin at presynaptic neurons in the brain. This means there is less of the chemical available to provide communication across the synapse itself. Light therapy is believed to reduce this binding, leaving more serotonin available for effective mood stabilization.
Enhancing Other SAD Treatments
Antidepressant medication and talk therapy for SAD can be more successful when combined with light treatment. Patients with severe SAD usually receive medication and light therapy as part of their treatment. Some individuals with SAD respond more favorably to light therapy lamps than to medication.
Reducing Broader Depressive Symptoms
A SAD lamp can lift your mood and improve your symptoms of depression, even symptoms outside the typical definition of SAD. Patients with SAD and other types of depression reported a reduction in symptoms or even complete remissions after four weeks of bright light therapy.
Achieving Real Results with Light Therapy
Research into precisely why light therapy works is ongoing, but there is little doubt that this is a genuinely effective means to treat SAD. Some patients report experiencing the beneficial effects of light therapy within three days of initiating treatment. Other patients may require a longer course before they start experiencing big improvements.
There may be some side effects, however. Jumpiness and jitteriness have been reported in a small minority of cases, as have headaches. Some people with SAD may experience nausea during light therapy, while others may have light sensitivity issues.
If you experience any problems during light therapy or if you believe you are particularly sensitive to light, speak to a medical professional. An alternative course of treatment may work better for your specific case.
The Best Light Boxes for Treating Seasonal Affective Disorder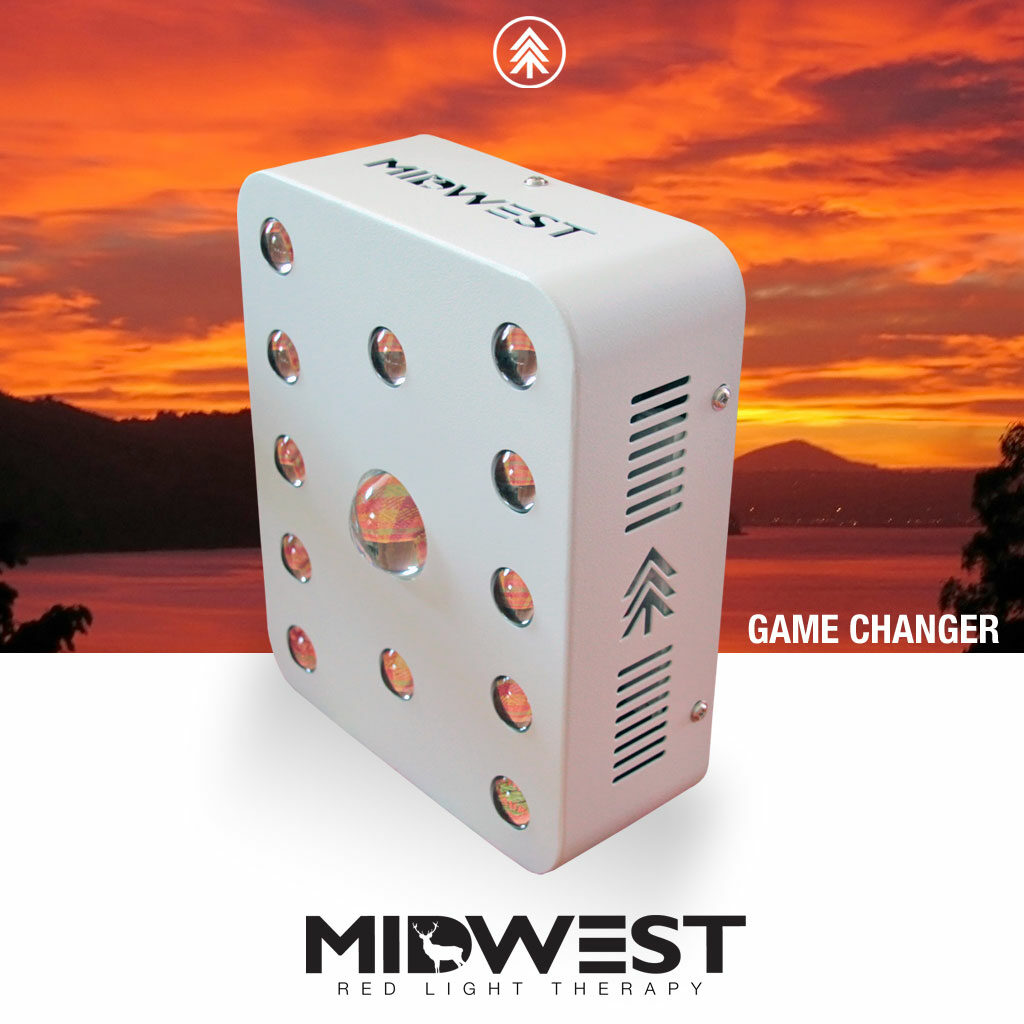 Game Changer – Midwest Red Light Therapy
The 'Game Changer' is an innovative and revolutionary device that offers unparalleled power and portability in red light and near-infrared Therapy. Its advanced design ensures that the powerful light can penetrate even far into the skin to treat multiple areas – from tendons, muscles, and ligaments to the bones beneath them – and provide holistic healing to any bodily injury or ailments.
With its portable nature, you can take this amazing device anywhere you go, so you always have access to effective therapy whenever you need it. The 'Game Changer' truly is revolutionary – and nothing short of a game-changing invention for pain relief, recovery, and overall health improvements!
Game Changer Use code "hwp10" at checkout for 10% off!
Overall Verilux HappyLight Therapy Lamp
The Overall Verilux HappyLight Therapy Lamp is an excellent addition to any home and can relieve the gloom of winter days and dark offices. With a maximum light output of 10,000 lux, this natural spectrum lamp gives off plenty of light to lighten your mood and boost your energy levels.
Plus, it offers both a low and high brightness option so there's no need to buy multiple lamps as you become used to the effects of the light! It's also quite portable, so you can move it around easily and take it wherever you go. And because it's only 12.5 inches tall by 6.25 inches wide, the lamp will fit on almost any desk or tabletop.
You can even adjust its base for maximum tilt too – making this Overall Verilux therapy lamp an ideal one-stop solution for dealing with seasonal affective disorder or general darkness anytime and anywhere!
Carex Sunlite Bright Light Therapy Lamp
The Carex Sunlite Bright Light Therapy Lamp is a great product for those interested in trying out light therapy. Its sleek, modern design coupled with its user-friendly size makes it an easy addition to any space.
The lamp has a safe UV filter, meaning it can be used with the peace of mind that the product is reliable and provides maximum protection at all times. In addition, those trying out light therapy don't have to worry about making a large investment right away as this lamp is available at an accessible price point.
Northern Light Technologies Boxelite
The BOXLite OS is a great way to get comfortable in any environment. Not only does it emit 10,000 Lux of light at a distance of up to 14 inches, but it is also adjustable, letting you find the perfect working height.
What's more, this versatile light box offers soft and pleasant diffused light that makes it perfect for reading or studying in comfort at any time of the day. Additionally, its framing legs are adjustable so you can set the optimal height with ease. Whether you need more light while working or just want to curl up with a book, this BOXelite OS has everything you need.
Lavish Home Floor Lamp
Consider the Lavish Home model if you're looking for a versatile floor lamp that can aid with SAD. Its strong illumination is suited for areas greater than 35 square meters. It has a flexible neck, allowing it to be positioned as required.
The fluorescent bulb may be used for up to 5,000 hours and emits the same amount of light as a 150-watt incandescent bulb. All this while consuming a fraction of the energy.
Users have deemed this the "perfect reading lamp" because it can combat seasonal affective disorder and prevent eyestrain when reading. It is available in various tints, complementing any design plan.
DayBright Light Therapy Lamp
The DayBright light therapy lamp features an attractive appearance constructed of environmentally friendly solid wood. It generates bright light (10,000 lux) without emitting any potentially damaging ultraviolet radiation. We should be bathed in the full brightness of the sun every day.
The DayBright lamp is one of the most powerful light therapy devices available. It boasts a luminance of over 10,000 lux and resembles a daylight bulb. The body releases hormones that eliminate negative thoughts and improve mood when the sun rises. This lamp produces full spectrum lighting using UV-free LEDs calibrated to wavelengths that support the body's normal sleep-wake cycle.
Why Choose Holistic Wellness Practice in Georgia?
HWP seeks to provide a safe atmosphere where individuals, couples, and families can learn more about themselves and how their thoughts, emotions, and behaviors are interconnected. They offer health and wellness services, including counseling, coaching, and workshops by various professionals. Their mental health and wellness exqperts use tried-and-true techniques to help clients resolve their current problems, regardless of their severity.
HWP's primary goal is to enhance the well-being of our clients. Book an appointment with HWP if you struggle with seasonal affective disorder or SAD in Georgia.
We offer in-person and virtual services – contact us today to learn more!