Welcome!
You have taken an important step in taking care of yourself and making positive changes in your life. We want you to be successful and are honored to be a part of your journey. Whether you are new to therapy or have been in therapy before, here are a few things to keep in mind as you consider our time together.
A standard session is typically somewhere between 45-50 minutes.
Clinical studies show that both in-person and telehealth sessions are effective treatment mediums so, choose what works best for you. Some people prefer to engage in a combination of both due to their schedules.
Open communication is a critical component of therapy. Asking for what you need in this relationship can be a powerful way to learn to flex that muscle in a safe and non-judgmental environment. It is important for you to be able to honestly share what works and what doesn't work for you.
Good therapists are agile and able to adjust the treatment direction, tools, and techniques based on what you are interested in and what resonates with you. There are hundreds of exercises, handouts, links, tools, and techniques to pull from to ensure you are getting what you need so, your voice is important in this process.
Come prepared for your session so that you get what you need.
Here are some pro tips to consider:
Take an intentional moment as you walk into the building to do a little informal present-moment practice. Maybe take notice of your five senses as you walk from the car to the building. What do you see and hear? Is the air cool or warm outside? Is the sun shining or does it feel grey outside? Can you smell anything in particular in the air? Maybe take a drink of something or grab a mint or piece of gum from your car and notice how it tastes. Is it refreshing? Sweet? Tangy? Notice how your body moves as each foot is grounded with each step. As you enter the office, take notice of your thoughts and feelings ~ without judgment.
Between sessions, it can be helpful to jot down any goals, ideas, questions, insights, events, triggers, concerns, or successes to help guide what you might like to talk about in your next session. Some people use their phone or a journal to keep track of their thoughts, feelings, behaviors, and mood throughout the week to help them remember.
Feel free to bring in a notepad or journal if it will help you to remember any takeaways or goals for the upcoming week. For most therapists, it is also perfectly fine to pull out your phone to make a note as well!
If you would like to learn a new tool or technique, or get help with something you are working on currently (a particular type of meditation, a mindfulness or present moment practice, an upcoming presentation you have to give, a boundary you want to set with someone, etc.), just ask! Therapy is a great place to learn, practice, and role-play.
Closing out our time together
Termination can be a natural, positive, and integral part of therapy!
So… how, when, and why do we begin to move away from therapy? The short answer is, "It depends on the situation." Unless you feel you are in emotional or physical danger, terminating abruptly is almost never the best solution. Use this time to communicate your needs. A good therapist will always support what is best for you.
Here are a few reasons we might want to slow down or leave therapy.
"I am feeling sooo much better!"
Great! Let's discuss how we might start the closure process by extending the time period between sessions. If you are weekly, let's go to bi-weekly for a couple of weeks. If that feels good, we can move to monthly, or you can decide to just reach back out for a session if needed. The point is to have the conversation so we can celebrate your feeling better and review your progress.
"I want to connect more with others in the same boat."
Maybe it is time to transition to a support group where you can hear experiences and bounce all of your new ideas and insights off the group. Let's talk about it. This can be a great bridge to terminating therapy.
"I am too busy right now; I just can't find the time!"
Remember that prioritizing yourself is the best thing you can do for you, your loved ones, your job, and all the other stuff you have to do. When we don't do this, we can become overwhelmed, less productive, and not as present to others or to the tasks at hand. There is a Zen proverb that goes something like this: "If you don't have time to meditate for an hour every day, you should meditate for two hours." Let's talk about how we can fit you into your own schedule in a way that makes the most sense.
"I'm experiencing a money crunch."
It happens. Life happens. Just talk with your therapist about it and we can see how we might be able to make it work so that you can have the support you need to continue with your progress.
"This is not in my scope of practice."
An ethical therapist may feel that you need something that they don't specialize in and they will let you know as soon as possible if that is the case. This one is on us. We will talk with you and refer you to someone who has expertise in that particular area if that is what you need.
And probably the hardest one to express: "I'm just not feeling it."
The therapeutic alliance between clinician and client is the most powerful vehicle for change in therapy. Not everyone clicks with everyone. It's perfectly ok to say, "I like talking with you, but I wonder if I might work better with someone who is _____ or who focuses on _____." The truth is that a good therapist will never be offended or upset by this request. Remember, it is our job to support your growth and advocating for yourself and setting boundaries is an integral part of this process. We all need to know how to gracefully set boundaries, and sometimes even end relationships, in a way that is in line with our values. Let's talk about it and use this as good practice opportunity. It is hard, but it is worth it!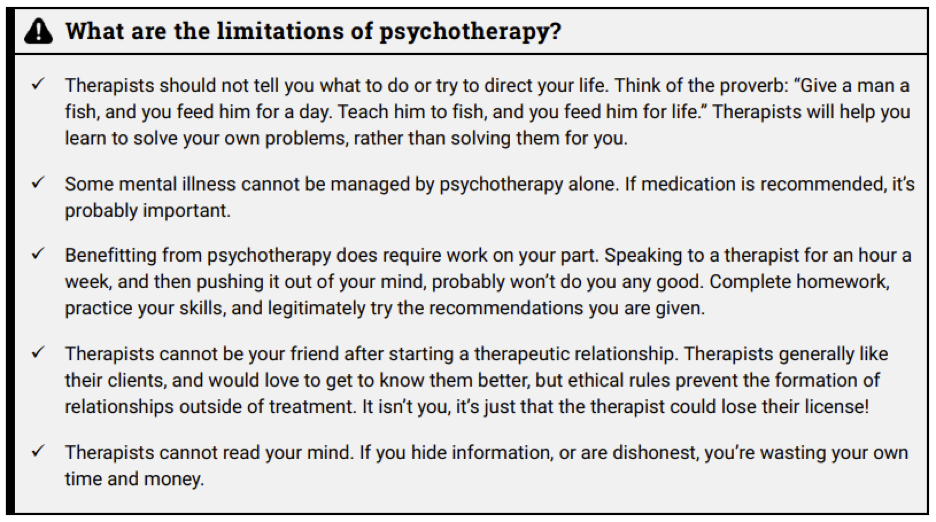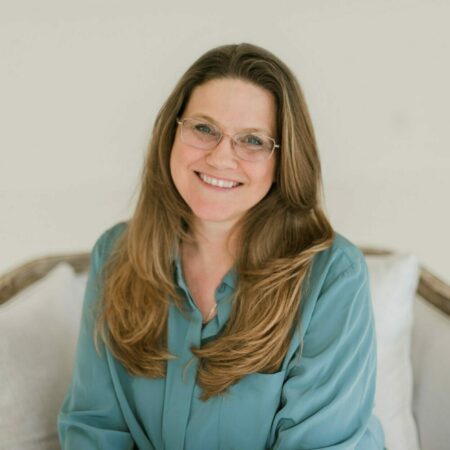 Leigh is a psychotherapist who specializes in working with clients who experience a wide range of symptoms associated with anxiety, depression, and trauma.  She utilizes mindfulness-based and evidence-based treatments in her practice, including ACT, MBSR, DBT, CBT, and SFBT.
We offer in-person and virtual services – contact us today to learn more!