A Whole-Person Approach to Counseling: Alpharetta, GA Mental Health Therapist
In our interconnected world, understanding mental health has become increasingly crucial. Holistic therapy isn't just a trend; it's a tried-and-true method that considers every facet of your life.
At HWP, we believe in embracing the whole person, ensuring therapy is more than just a conversation—it's a journey toward comprehensive well-being. Expert treatments empower you to recognize and manage disorders, stress, and other psychological issues, improving your quality of life.
We're here to support your journey toward mental wellness. Our therapy services in Alpharetta, GA are provided by licensed professionals who understand the complexities of thoughts, feelings, and experiences for individuals and their families.
We specialize in various therapies, including cognitive behavioral therapy (CBT), known for effectively managing emotional instability. Our guidance can help you navigate mental health disorders, focusing on your overall well-being. Choosing the right therapist is crucial for your journey to mental wellness.
Our Alpharetta, GA mental health therapists are ready to help. Contact us today for more information about our professional mental health services, including individual therapy, couples counseling, premarital counseling, and more.
Who Can Benefit from Therapy?
Therapy is an investment in your mental health and well-being, which means it will take time and effort on your part as well as the therapist's. Therapy can provide challenges but also relief from symptoms of depression, anxiety, PTSD, or other disorders.
If you are looking for someone who understands how hard therapy can be at times yet has faith in its benefits then I'm glad you're here! Here are some questions to ask yourself before beginning therapy:
Do I have symptoms of depression?
Do my relationships suffer because of how I feel?
Do I ever feel hopeless or anxious about the future?
Do my negative thought patterns get in the way of success at work or in relationships?
If you answered "yes" to any question, it's time for therapy. Our Alpharetta Therapists are ready when you are! Let's talk about how to make you feel your best today. Everyone can benefit from therapy, whether you need help developing coping skills to deal with daily stress, working on your relationship, or something deeper.
Your mental health is deeply connected to your overall health and well-being. Our highly trained therapists understand this and are here to help you feel your best through teen therapy, young adult therapy, and adult therapy as well as through our healing arts and wellness activities such as Reiki, sound baths, breathwork, and nutrition coaching.
Full List of Therapy Services Offered at HWP
Outpatient Mental Health Services in Alpharetta, GA
We help you to learn healthier ways to live a balanced life.
By working with our unique whole-person approach, we can teach you how to deal with daily stressors in more healthy and aware ways. You will work to improve your self-care routine by implementing new habits that lead up towards better health for yourself and those around you.
Additionally, you will learn to increase effective communication skills so that when faced with difficult negotiations or conversations, you are able to handle yourself in a more confident manner.
HWP – Mental Health Therapists In Alpharetta, GA
HWP offers many different types of mental health therapy–psychodynamic therapy, cognitive-behavioral therapy (CBT), mindfulness meditation, sound baths, and much more. Our team of experienced professionals will work with you on your individual needs. The HWP team has been providing therapy and counseling to people with a wide range of mental health issues for years.
Our counselors are certified in many different types of therapy. They are licensed professionals who work closely with you to help find the therapeutic path that's best for you and your needs. To learn more about our mental health therapists in Alpharetta, GA, and how we can help you achieve your best mental wellness, reach out to our office for a complimentary consultation.
Counseling Focus Areas
Our team maintains a wide variety of specialties so that we can provide our clients with curated care designed for their needs. After a brief phone interview, we work to match you with a therapist who deals directly with what you are looking to accomplish. The focus areas that are addressed specific goals in counseling include, but are not limited to:
Chronic stress/ feeling overwhelmed

Anxiety

Panic

Feeling out of place and/or isolated

Social rejection/ bullying

Sadness

Difficulty making decisions

Low self-esteem

Lack of motivation

Career or education uncertainty

College planning

Relationship issues

Difficulty with intimacy
Eating too much or too little
Poor physical health
Sleep issues
Men's issues
Changes in mood
Anger
Family stressors
Major life event
Grief and loss
Trauma/abuse
Self-injurious behaviors
LGBTQ+ related concerns
Certified Mental Health Counselors in Alpharetta, GA
HWP is a mental health counseling center in the heart of the Alpharetta, GA area. Our team of certified mental health counselors, LCSWs, and licensed marriage and family therapists has worked with people suffering from mental illnesses including anxiety, depression, eating disorders, PTSD, and more in the Alpharetta area for many years. Our goal is to help identify our client's individual needs and create personalized plans for them.
If you're searching for something to help improve your mental health, HWP uses a treatment approach to find what works best for individuals. We are certified mental health counselors and wellness practitioners. We specialize in helping people through all aspects of their lives, including relationships, self-esteem issues, and trauma from the past or present. Our team is committed to your healing process.
Certified counselors use a whole-person treatment approach to help improve emotional, psychological, and physical well-being.
Harnessing the Power of Individual Therapy Sessions for Personal Growth
Addressing mental health issues requires a personalized, empathetic approach. HWP's team of licensed counselors and social workers focuses on individual therapy sessions, helping each client to embark on their unique path to personal growth. Our therapists are trained in a variety of methodologies and techniques, crafting a tailored therapeutic journey for each person.
Individual therapy provides an invaluable space for self-exploration, understanding, and growth. It's a process in which our therapists guide clients toward healthier responses to life's challenges and stresses. Along with addressing mental health concerns, our individual counseling sessions equip clients with valuable tools for personal development and emotional resilience.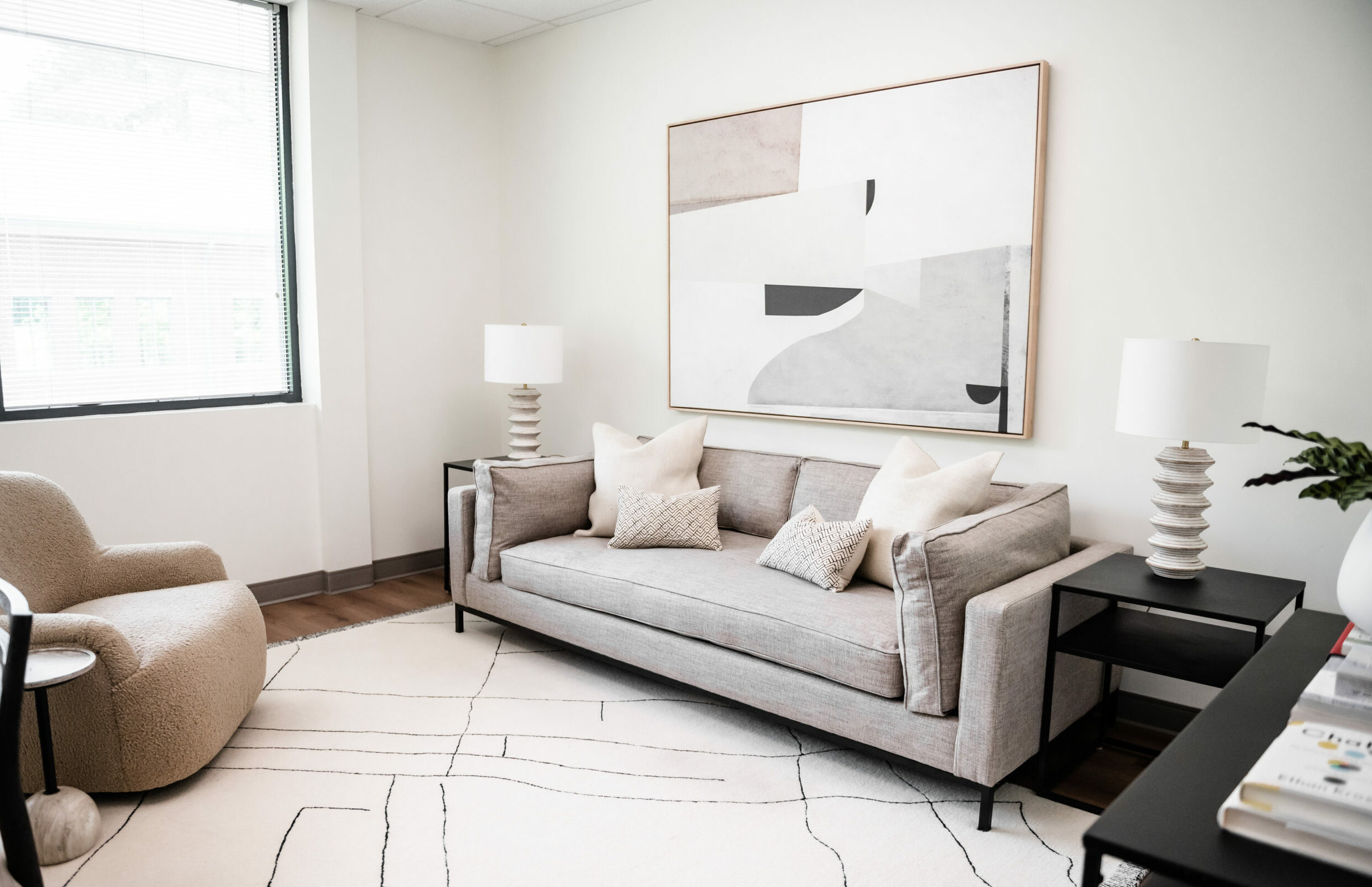 Take the First Step Towards Mental Wellness with Our Certified Counselors
It is natural to fall into the pattern of sabotaging our best interests. Though this can be discouraging, it should not keep us from trying again and continuing on with a new perspective in life choices. By actively choosing what we want for ourselves rather than giving up because something has failed before, you are working toward healing and wellness.  
Some of the most important and valuable lessons we learn in life are ones that teach us to become our own best friend. We cannot deny ourselves happiness, pleasure, or success because it goes against what society deems as "normal." With insight on how self-sabotage really works (and who does it), you can make conscious choices to align yourself with your highest good.
Our goal at HWP is to give people coping skills that will help them succeed by guiding them through these processes step-by-step so they might find satisfaction without always reaching out for their worst fears first instead of their dreams come true.
Overcoming Stigma: Encouraging Mental Health Support in Alpharetta, GA
Despite significant progress in raising awareness, the stigma surrounding mental health in Alpharetta, GA remains a barrier for those seeking support. Negative stereotypes and misconceptions about mental health cause shame, fear, and judgment, creating difficulty in reaching out for help. This lack of understanding propagates the notion that mental health struggles imply weakness or personal failure.
Encouraging open discussions about mental health and breaking down barriers is crucial. By fostering a supportive and accepting community, individuals feel safe to seek help in Alpharetta, GA. Educating the community and challenging societal stereotypes about mental health is essential. Dialogue, empathy, and compassion can help reduce stigma and prioritize mental well-being.
Contact Our Therapists in Alpharetta, GA
At HWP, we offer a whole-person approach to mental health counseling. We work with you at your pace and in the way that is best for you. Our goal is to give people coping skills that will help them succeed by guiding them through these processes step-by-step so they might find mental health and wellness.
Reach out today if this sounds like a good fit for what you're looking for when it comes to therapy or life coaching services. Our complimentary 20-30 minute consultation allows you to learn more about our office and see if we are the right fit for you.