What is Meditation?
Meditation is attention and awareness training that helps you achieve a more calm and stable state both physically and emotionally. Years of research support the many positive benefits of a regular meditation practice. However many people find the thought of meditation intimidating, difficult, or impossible to learn.
Meditation Coaching in Alpharetta
Meditation coaching sessions offer personalized, guided assistance to help you be successful at meditation. You will learn to spend less time wondering if you're doing it right and more time enjoying the practice so you can get out of your head and start living in the present moment.  Through our work together and your commitment to daily practice, you can shift from a state of overwhelm to a healthier, more balanced way of thinking and perceiving the world around you. 
Benefits of Meditation Coaching
Meditation has been shown to help with sleep, blood pressure, chronic pain, and overall fatigue. Instead of sitting with unwanted thoughts and emotions, meditation sessions can help us learn to cultivate more positive emotions such as gratitude, joy, and self-compassion.  
Additionally, a guided meditation practice can help you to experience:
Peace and relaxation 

New perspective 

Reduced stress 

More patience and tolerance 

Increased self-awareness 

Mindfulness

Spiritual growth 

Renewing emotions 

Greater imagination and creativity.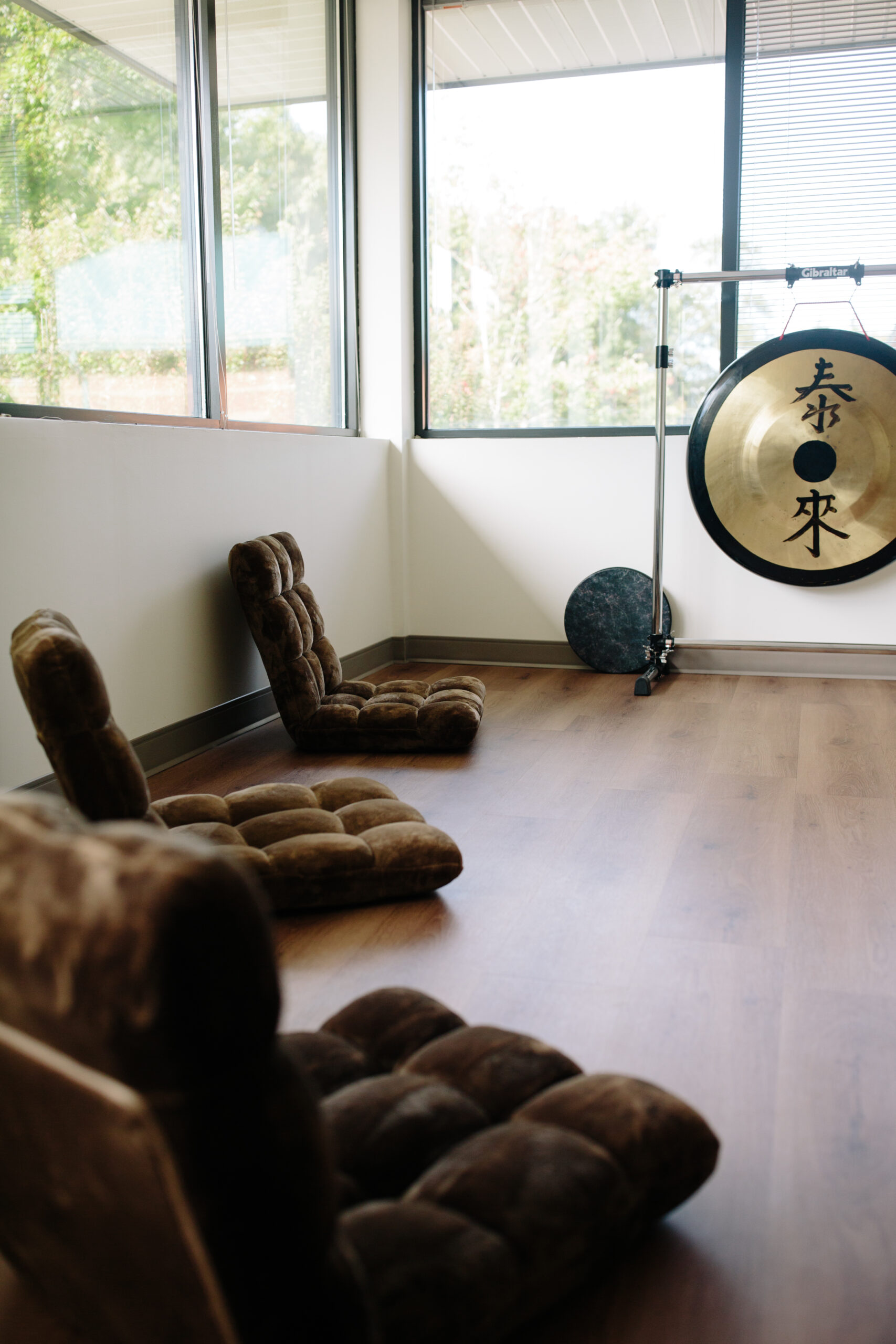 Who is Meditation Coaching for?
Meditation Coaching is for anyone who is interested in an individualized approach to adding meditative practices into their daily self-care routine. 
It is ideal for those seeking to:
Improve mental focus and concentration

Be more present and mindful

Manage stress and anxiety

Manage chronic pain

Improve sleep

Cultivate gratitude and self-compassion

Improve mood and emotional wellbeing

Gain greater insight, clarity and self-awareness
What to Expect in Meditation Coaching
Our coaching approach is not a one-size-fits-all and combines modern tools and technology with centuries-old practices from numerous styles and traditions of meditation.  
Our studio offers a journey that begins with a health history, individualized assessments, and a deep dive into your previous experiences, personal goals, and unique preferences.  We use this information to identify possible obstacles to meditation and to teach the best meditation practices to get you started and improve your experience. Subsequent sessions include a combination of science-informed education with guided practice to help reinforce your learning. The real success comes from regular practice at home.  Throughout the process, your meditation teacher will serve as your guide and support as you work together to explore strategies to overcome roadblocks and enhance success.  
Sessions may include:
Instruction and guidance on a variety of meditation techniques 

Heart Rate Variability Biofeedback to track your progress

Downloadable handouts and resources

Guided audios or videos to support daily practice 

Unlimited email support