If you're feeling tired and disheartened from living in patterns that are making you feel burned out, disconnected from others, or stuck in a rut, this may be a clue that you would benefit from beginning a therapeutic relationship.
Counseling is a type of support and guidance for helping you navigate life's challenges. There is counseling available, no matter what these challenges are.
Sometimes we get stuck in the thinking that therapy is just for the "mentally unwell," for people who don't know how to handle their problems or for relationships that are on the brink of divorce. You may think that seeking counseling makes you weak but you couldn't be more wrong. Counseling is for everyone, and especially for the brave.  
What is Counseling?
The American Counseling Association (ACA) defines counseling as
"a professional relationship that empowers diverse individuals, families, and groups to accomplish mental health, wellness, education, and career goals".
Beyond this official definition of counseling, we understand this special relationship to be a collaborative process between the client and the counselor. The therapy and sessions themselves will revolve around the problems and goals the client brings forth. It takes great courage to bring your fears and concerns into session and talk about them honestly, but your therapist is trained to listen with a non-judgmental ear and to make the therapeutic space safe and welcoming.
Usually, the counselor will meet with you until your goals are reached and the problem you first entered counseling with has subsided or becomes more manageable for you. The counselor will be mindful of checking in with you on how you feel progress toward your goals has been going. It isn't unusual for the counselor to adjust treatment since growth is not always linear but more of a creative process that is built on persistence and hope.
Who is Counseling For?
Counseling really is for everyone. Whether you are struggling with your direction in your career or feeling disconnected in your relationships, having marital or family conflicts, struggling with your self-esteem, or just feeling a bit lost in life, counseling offers skilled support for getting through any problem. 
Some common benefits of counseling are:
Being more able to identify problems and unhelpful patterns in your life

Becoming more confident in your ability to make positive changes or respond to problems differently

Increases in your communication skills as well as in your interpersonal skills

Decreases in your symptoms which originally brought you to counseling

Clarity on your goals, values, and self-worth

Improving your overall quality of life
The Counseling Process
Counseling and therapy can come in many different forms depending on the setting, the issues you're looking to work through, and the theoretical orientation of the counseling professional. Sometimes it is very structured and "by the book"- this is usually the case for specific mental health treatment which require more stringent parameters to follow, such as for Obsessive-Compulsive Disorder (OCD) or certain substance use disorders. Other times, it is driven by a counselor's theory about a person's readiness for change as well as an understanding of the underpinnings of the problem they are facing.
Many counselors will often specialize in treating specific issues and seek professional training in evidence-based practices, which educate and train them in ways that will properly support you in the problems you are facing. 
What's consistent across therapy and counseling, however, is that the process involves goals and steps to get there. No matter which therapeutic model a counselor uses, a path toward a better future is something you can count on.
Counseling is Different than Talking to a Friend
A good friend can make all the difference when you are going through a tough and uncertain time. A good friend will care about you, want the best for you, and give you advice from a place of true concern. But a good friend can't always be there for you in all the ways that you need it, which it's why it's beneficial to have a trained professional counselor on your support team.
What sets counseling apart from talking to a good friend, however, is that a counselor is trained to be an active listener who is unbiased in their treatment; they become a blank slate and are not invested in you following their advice or changing in a certain way. Rather, they are an objective guide who will listen carefully to the issues you are struggling with and find a way forward, with you not for you.
A good therapist will not just give you advice but will help you discover deep down what you want. 
Is Counseling For Me?
People come to therapy for a number of different reasons. Whether it's wanting an outside perspective to process what's going on in your life, needing an unbiased third party to help you work through difficulties with your partner or address challenges in other important relationships, or if only to remember that you're not alone in the problems that you face, counseling is for you.
No matter what you're going through, no matter what you need, a therapist can partner with you and help you find the holistic healing you're looking for. If counseling sounds like something that is for you, we have trained professionals who would love to meet with you. Contact us today for a free consult.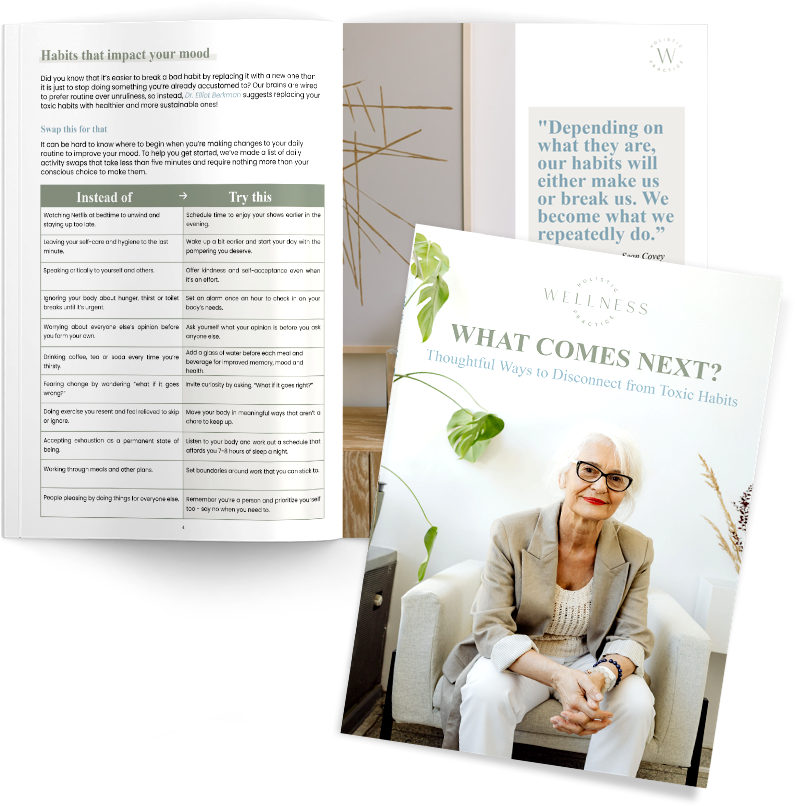 What Comes Next?
You've read the blogs, tips, and posts with catchy ideas. You're taking the steps and making progress, but you crave more. You want answers about why habits have formed in your life and how you can take steps to ensure they don't take hold again.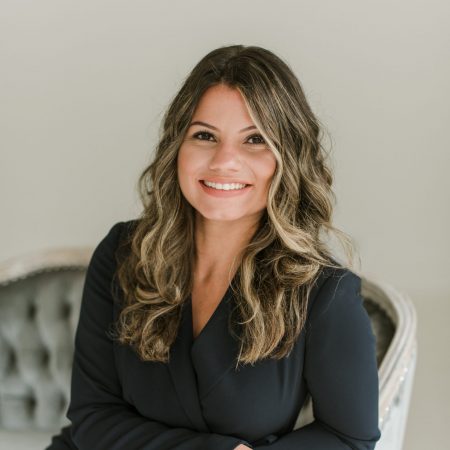 Gleyce Almeida-Farrell is a psychotherapist and the founder of Holistic Wellness Practice in Alpharetta, GA. She specializes in helping adults manage stress and overcome symptoms of anxiety and depression utilizing a holistic and integrative approach to mental wellness.
We offer in-person and virtual services – contact us today to learn more!